Detoxification
The Purifier Tea
Our very first kidney support formula, The Purifier is a revolutionary addition to our apothecary and something we find is often overlooked in both the allopathic and holistic realm. Although our kidneys play such a crucial role in the elimination of waste products and environmental pollutants, we tend to focus more on liver support, as the markers of optimal liver health are more readily measured. However, this leaves mineral-rich, kidney-loving herbs that protect and strengthen us over time out of the picture, even though these nutritive plants offer such a wide range of benefits. This aromatic, slightly bitter, and full bodied tea is blended with herbs that work in harmony to help us eliminate excess, without causing depletion. Cleavers, Horsetail, Goldenrod, Parsley, Dandelion Leaf, Ginkgo and Rosehip each have a unique and complementary ability to support the kidneys, the lymphatic system, and our ability to maintain fluid balance as we let go of what we no longer need. Brew yourself a cup when you feel like you're having trouble letting go — after a long flight, before an important event, or as part of self care (we love sipping this before Gua Sha when you need to "de-puff!")*
Third party tested for quality assurance
View Results
DOSAGE:
1 heaping teaspoon
Strength Per Batch:
2000mg per batch
KIDNEY & FLUID BALANCE SUPPORT*
The missing link
About the
Formula
Kidney support for the modern world
When it comes to kidney health, we often don't implement supportive measures or diet changes until things have progressed to a point of concern — but we suggest prevention and ongoing support with help from mineral rich, strengthening, kidney supporting herbs that assist overall kidney health slowly and gently over time.
There's so much we can do to aid and protect kidney physiology and function thanks to plants that contain antioxidants with an affinity for kidney cells. The Purifier contains a blend of herbs that help our kidneys do the job they're meant to do despite a wide range of environmental stressors in today's world.*
Horsetail: a mineral-rich powerhouse
Horsetail is an herb that quite literally helps us to embody its namesake -- supporting long and healthy luscious hair, strong nails, and collagen production within the skin. Known as a beautifying herb, this plant medicine also deeply supports the kidneys, promoting healthy fluid balance and normal kidney function.
Horsetail is noted for its ability to "pull whatever gold might be in the soil." This means it ends up extremely rich in hydrating, nourishing minerals including silica, phosphorous, iron, calcium, magnesium, manganese, and potassium. While all of horsetail's minerals are valuable, the high silica content that has earned solidified its value in both traditional and modern herbal remedies.
In the lens of holistic beauty, silica promotes our own collagen production and mineral absorption, helping the hair, skin, and nails get the nutrients they need to be strong, smooth, and shiny. As horsetail supports the kidneys, it's also a lovely 'de-puffing' herb that can be combined with bodywork and facial massage such as Gua Sha. Silica also helps support healthy connective tissue, playing a part in joint and cartilage protection as well as healthy bone maintenance.
Interestingly enough, one of the major assaults we face in terms of kidney health today is heavy metal exposure, due to the ubiquitous nature of industry byproducts such as aluminum. Although horsetail is renowned as a "kidney herb," part of the reason it rose to fame is because its silica content helps to maintain the normal and healthy elimination of heavy metals like aluminum, allowing the kidneys to maintain optimal function without this added stressor.*
Benefits & Uses
Supports the kidneys and lymphatic system
Aids healthy urine elimination and emptying
Helps maintain optimal fluid balance
"De-puffing" support post-airplane travel
Supports urinary and bladder health
Supports the normal, healthy elimination of heavy metals
Encourages healthy hydration with mineral-rich herbs
Promotes healthy hair, skin, and nails
Aids workout recovery by assisting the kidneys in the normal, healthy excretion of waste products such as lactic acid*



When to Use
The Purifier is designed to be used on a consistent basis in rotation with your favorite nourishing teas, in order to aid a healthy inflammatory response within the kidneys and bladder and provide steady support to keep your renal system happy and functionally optimally. We like to utilize The Purifier after airplane travel, to support healthy fluid balance when needed, to support healthy urinary frequency, and after tough workouts in order to aid the kidneys in the normal elimination of waste products such as lactic acid.*


How to Use
For a quick brew, add 1 heaping teaspoon to a french press or mason jar and cover with hot, just-boiled water. Let the herbs steep for 15 minutes, strain, and enjoy. For a stronger flavor, add 1 heaping teaspoon of tea to one cup of boiling water on the stove. Cover, lower heat, and gently simmer for 15 minutes. Strain and enjoy as is or sweeten with honey. You may rebrew the same serving 2-3 times.
Shop Now
The story
behind the formula
As an herbalist, I've always found there to be a gap in the way we care for and nourish kidney health — not fully understanding that the food I was eating (especially high glycemic foods that spike blood glucose!) could impact my long term kidney health until well into my 20s. I believe that if there was more connected education around how our daily decisions beyond just staying hydrated could eventually affect our kidneys, we'd be able to better prevent some of the more severe imbalances we often feel blindsided by as we age.

This tea formula is part of my plan to help others better support kidney health from a preventative, nutritive approach; treating the body to the mineral rich herbs that naturally assist our kidneys in dealing with various environmental and life stressors. It's part of my personal rotation and something that has helped me maintain healthier fluid balance over the past few years, especially after traveling or during times of occasional stress.*
Learn More
The Purifier Tea
Expiration date
12/01/2022
Batch Details
Microbial testing
Passed
Heavy metals testing
Passed
Pesticide testing
Passed
Gluten testing
Passed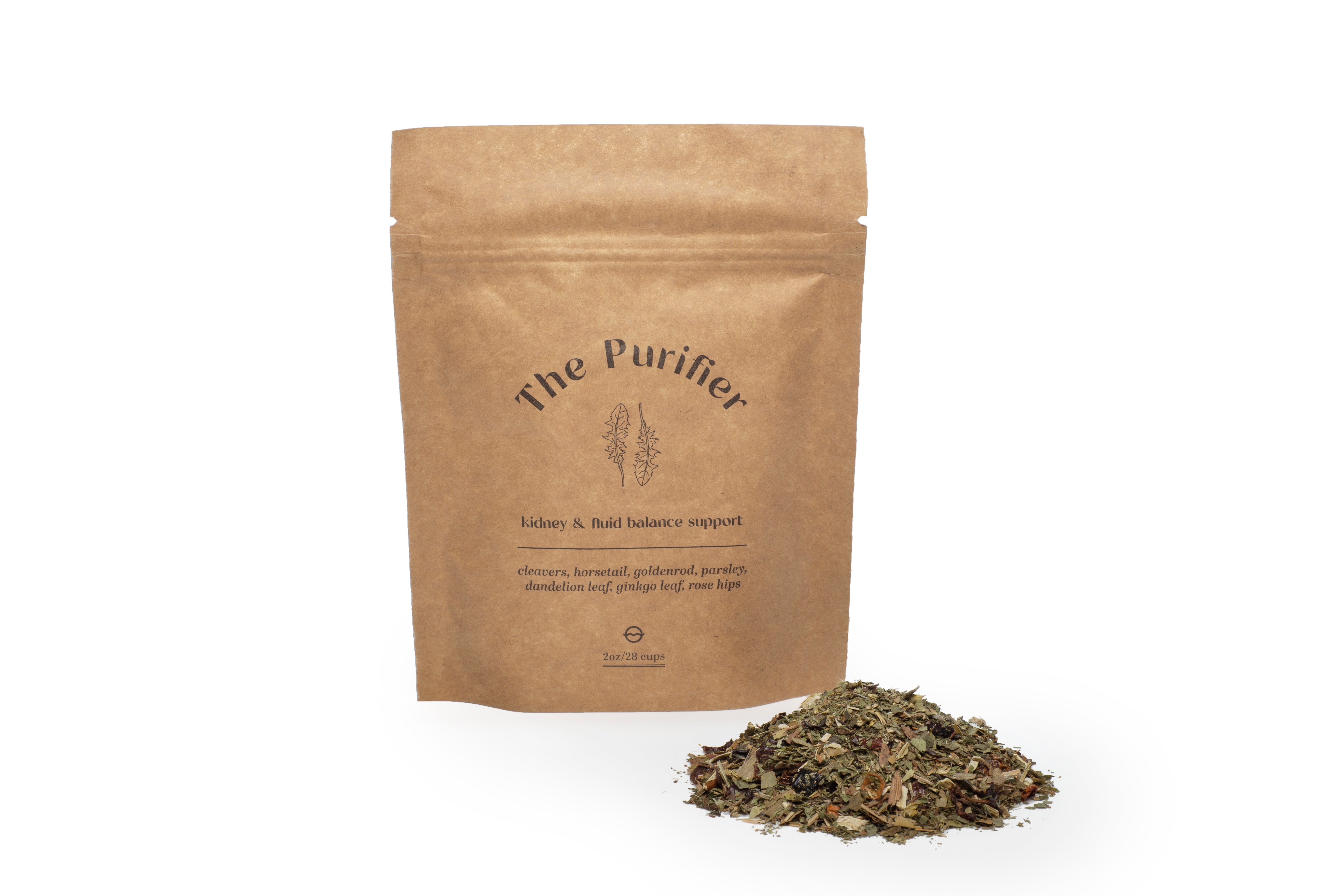 Third Party Testing
Latest Batch Details
Microbial testing
Passed
Heavy metal testing
Passed
Pesticide testing
Passed
Gluten testing
Passed
Searching for a past batch?
Thank you for taking the time out of your day to leave a review! To ensure all reviews meet our community content policies, we ask that you keep your feedback free of specific medical claims or conditions. Please note that your review may be used for marketing purposes.
Horsetail
Equisetum arvense
Dandelion
Taraxacum officinale