Immunity
Chest Comfort Syrup
Chest Comfort Syrup (previously HerbalTussin) is a soothing, clarifying "syrup" that helps to maintain chest comfort and bronchial health. With its blend of soothing and clearing herbs that support the respiratory system, Chest Comfort Syrup helps to keep you breathing easy during the colder months and beyond. This formula also supports immune health and healthy mucus balance to keep you feeling comfortable and clear.*
Third party tested for quality assurance
View Results
Dosage:
1/2 teaspoon every 2 hours
STRENGTH PER DOSE:
1682mg
CHEST & BRONCHIAL SUPPORT
Keeps you breathing easy*
About the
Formula
Supports bronchial health
Chest Comfort Syrup is an herbal syrup that helps to keep your chest comfortable and clear by supporting bronchial and respiratory health. This formula is designed for acute needs so that you have a tool you can feel good about, when you need it the most.*
Formulated with complementary herbs
Ingredients like Osha Root and Thyme have been used for ages to warm and soothe the respiratory system with their rich aromatics. Herbalist Rudolf Weiss once wrote, "thyme is to the bronchi what peppermint is to the stomach."
Other herbs, such as Wild Cherry Bark and Slippery Elm, help to maintain calm and clear respiratory health.*
Benefits & Uses
Soothes and calms the respiratory system
Supports bronchial wellness
Quick support to keep you comfortable
Helps keep you breathing easy
An immune season essential*

Designed with tradition in mind
Chest Comfort Syrup incorporates herbs that are traditionally known to help "Lung Qi" descend, as bitter, cooling herbs with an affinity for the lungs tend to have what's known as a "downward draining" energy.
In the practice of traditional herbalism, we look at the unique energetics of each herb when formulating, along with the overall balance and action of the blend as a whole.


How to Use
Take 1/2 teaspoon every 2 hours or as needed.
Shop Now
Pairs well with
Immune Shroom
Chest Comfort Syrup can be used alongside any of our immune formulas to help keep you feeling well during immune challenges. Immune Shroom, being adaptogenic in nature, is lovely for daily support before you even begin to feel run down, especially during times of occasional stress.*


Shop Now
Pairs well with
Elderberry Immune Elixir
Our Elderberry Elixir differs from Immune Shroom in the sense that it's designed to be used as a tool in a pinch at onset during immune season. If you're not one that likes to take something every day, Elderberries support an engaged and present immune response, so be sure to use at the first sign of feeling run down.*
Shop Now
The story
behind the formula
Chest Comfort Syrup was created as a holistic tool for your at-home apothecary, that you can feel good about reaching for when the need arises. With lung and immune health becoming more important than ever, I wanted to ensure my line contains herbal tools you can keep on hand that support overall respiratory health and comfort.*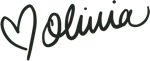 Learn More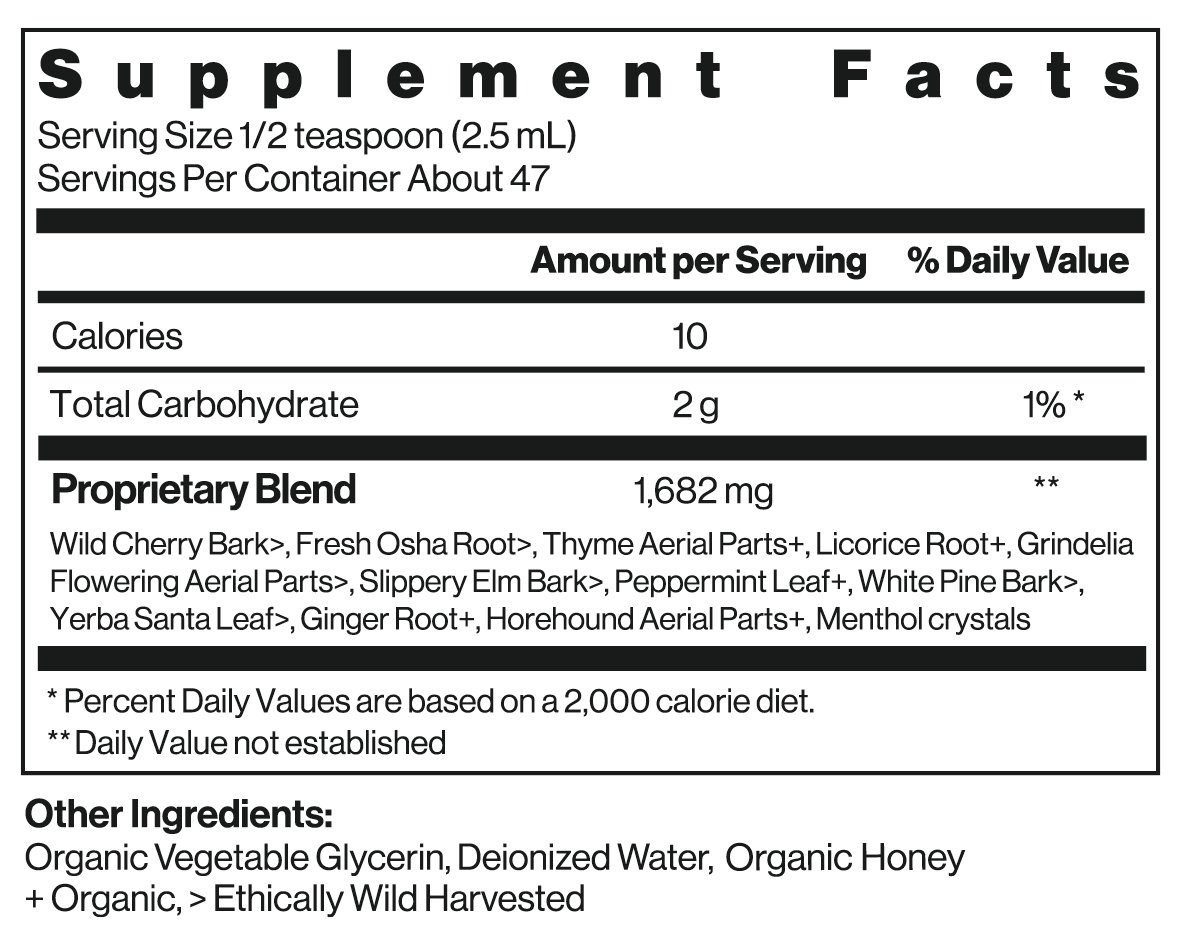 Chest Comfort Syrup
Expiration date
10/01/2027
Batch Details
Microbial testing
Passed
Heavy metals testing
Passed
Pesticide testing
Passed
Gluten testing
Passed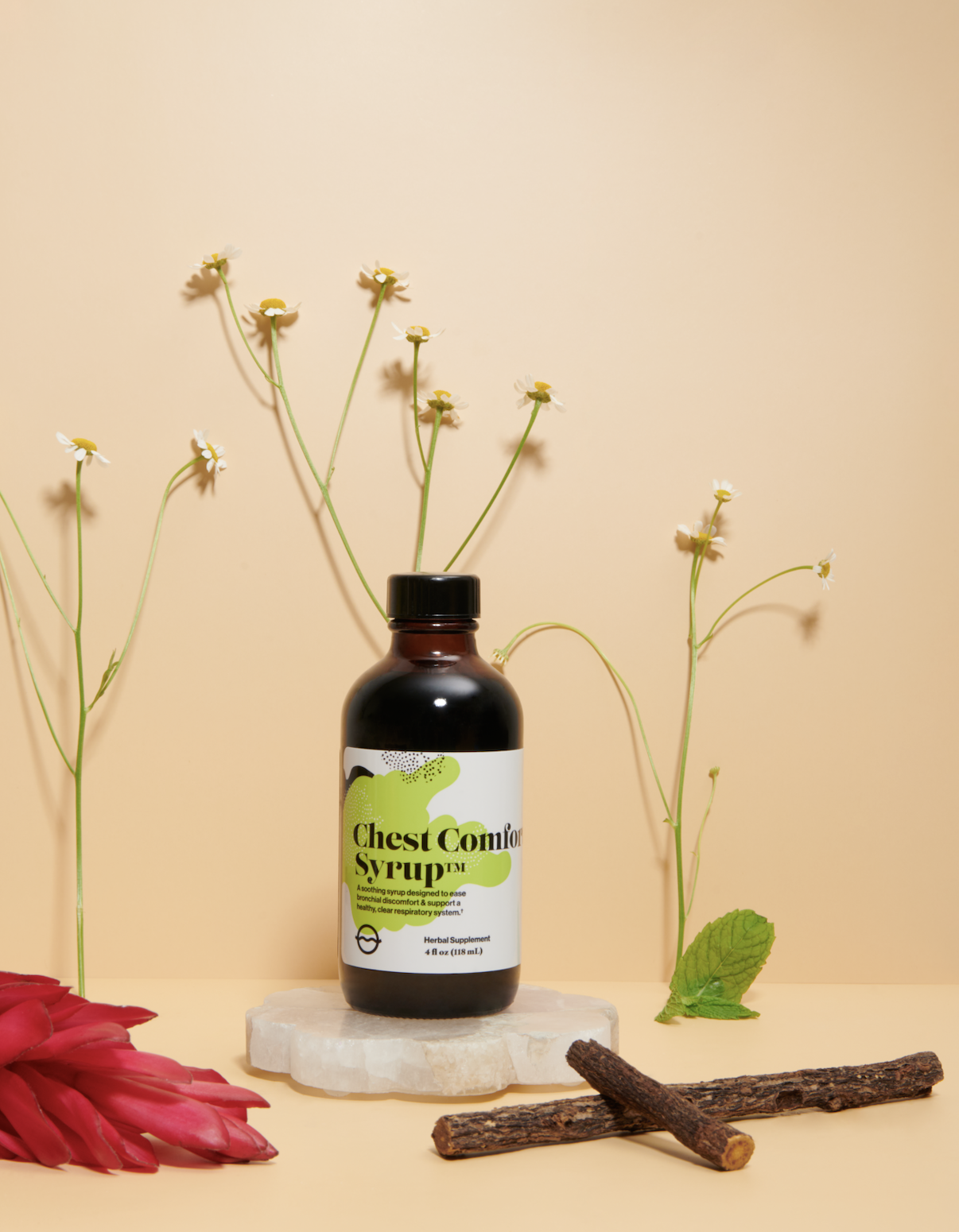 Third Party Testing
Latest Batch Details
Microbial testing
Passed
Heavy metal testing
Passed
Pesticide testing
Passed
Gluten testing
Passed
Searching for a past batch?
Thank you for taking the time out of your day to leave a review! To ensure all reviews meet our community content policies, we ask that you keep your feedback free of specific medical claims or conditions. Please note that your review may be used for marketing purposes.
Licorice
Glycyrrhiza glabra
Peppermint
Mentha piperita
Ginger
Zingiber officinalis