Gut Health
The Healer Tea
Meet our deeply nutritive and richly restorative gut health herbal tea, The Healer. Made with strengthening and soothing mucilaginous herbs that help coat, fuel and protect intestinal mucosal integrity, this blend promotes healthy intestinal permeability even on days when you're indulging in your favorite foods, dealing with gas and bloating, or experiencing a bit of digestive stress. Menders like Calendula promote a healthy inflammatory response, soothers like Marshmallow help maintain a healthy intestinal lining, and astringents like Meadowsweet tone the gut tissue to support healthy junctions within the intestinal wall. This loose leaf blend of flowers, herbs, and roots is an ally for even the most sensitive stomachs, enhanced by the gentle and effective delivery method of tea itself — which allows the therapeutic plant compounds to reach a wide surface area of the tissues that need them most.*
Third party tested for quality assurance
View Results
Dosage:
1 heaping teaspoon
Herb Strength Ratio:
2000mg per batch
SUPPORTS HEALTHY INTESTINAL PERMEABILITY*
Repair & Relief
About the
Formula
Why healthy gut permeability is key
Supporting the health and integrity of your gut lining is essential, especially when it comes to maintaining a healthy inflammatory response within the GI tract and immune system.
The importance of proper permeability and intestinal lining integrity is two-fold: a) healthy permeability ensures that the gut lining can let the right things in helping us to absorb minerals and nutrients from the foods we consume. b) proper permeability also allows the gut to keep the right things out: preventing toxins, allergens, and microbes from gaining access to the bloodstream. Incredibly, despite the need for an essentially impenetrable defense, the intestinal lining is only one cell thick to account for the need to accommodate the exchange of nutrients and hydration. Thus, protecting and supporting this mucosal lining is even more crucial in today's world -- especially in the face of the many assaults, our guts may be exposed to, from processed foods to pollutants and irritants.
Mucilaginous menders like Calendula and Marshmallow help to lubricate and protect the gut lining, maintaining intestinal integrity providing deeply restorative support for those who need it most. By providing optimal soothing and repairing gastrointestinal support, this blend promotes healthy bowel function, the normal repair of the GI mucosal lining, proper intestinal function, and healthy nutrient absorption.*

The moisturizing menders
We've all had to deal with dry skin externally on our body and face during an especially dry winter that no skincare regimen seems to even touch… but what happens when the skin inside of us becomes parched and dehydrated, too? While this may sound like a strange concept, the same epithelial cells that make up your skin can be actually found in the lining of your intestines.
If you're reading this right now and realize it's been a minute since you've had a sip of water, you're not alone — it's extremely common to experience a dry 'tissue state' within the intestinal tract due to hydration habits, microbiome imbalances, mineral status, and under-functioning digestive health as a whole due to processed foods, gut irritants, allergens, pollutants and more.
When it feels like no matter how much water you drink, your tissues and cells just aren't quenched, menders and soothers like Calendula come in to moisturize, rebalance and 'loosen the soil.' Think about what happens when you pour liquid on dry, cracking earth. Like the desert, it just runs off, as so much moisture has been drained that it can no longer hold proper hydration. As you moisturize and soothe the gut with healers like Calendula, Marshmallow, and even Plantain Leaf, your cells become able to absorb and respond to the water you drink.
Plantain Leaf is especially unique, as it contains both mucilage (coating, soothing, protective) and tannins (toning to gut junctions) -- moistening dry, dehydrated tissue while also supporting optimal intestinal integrity.*

Benefits & Uses
Support for healthy intestinal permeability and mucosal integrity
Encourages a healthy inflammatory response within the GI tract
Soothes and relieves occasional gas, bloating, and discomfort
Promotes and maintains a healthy intestinal lining
Fuels and protects intestinal mucous cells
Aids gut and microbiome health
Provides a healing coating that protects mucous membranes
An ideal ally for comfort and support during a microbiome-balancing reset protocol*
Who It's For
While gentle enough to be beneficial for all of us living in today's modern world, this versatile formula is perfect for: consistent use in your tea rotation as a way to support gut health and digestion through plants in an extremely gentle, loving, and soothing way
someone who is on a gut healing journey and/or lifestyle overhaul looking to support gut health and integrity, those embarking on a functional medicine microbiome balancing protocol, in need of calming and comforting support while in the rebalancing and repair phase digestive support for someone who has a 'dry' tissue state within the gut and could use some mucilage and moisturizing herbs to allow hydration to reach deeper into the cells
a nightcap after indulging in sweets or foods you love for the sake of balance, when you know you'll need a bit of extra support a supportive, comforting tool when you're accidentally exposed to a food intolerance or irritant*

How to Use
For a quick brew, add 1 heaping teaspoon to a french press or mason jar and cover with hot, just-boiled water. Let the herbs steep for 15 minutes, strain, and enjoy. To extract the maximum amount of mucilage from the Marshmallow Root, allow your tea to steep for 2-3 hours, coming to room temperature to mimic a 'cold infusion.' Strain and enjoy as is or sweeten with honey.

Shop Now
Pairs well with
Not Your Average Probiotic
For maximum gut health support, especially when embarking on a microbiome balancing protocol or recovering from a period of digestive upset, the pairing of the soothing herbs in The Healer and the beneficial strains found in Not Your Average Probiotic are a winning combination for digestive wellness and maintining a healthy inflammatory response within the intestines. Our 3-in-1 probiotic can be taken after your largest meal, or in the evening before bed to balance and support your overall microbiome.*
Shop Now
Pairs well with
Digestive Juice
Our secret weapon to nip occasional gas and bloating in the bud before it even begins, especially when traveling or eating out. 5-10 sprays before meals helps to keep digestion strong and maintain the progress you're making with the gut-soothing, resorative herbs within The Healer. Keep Digestive Juice in your purse as a pre-meal tool when you're heading to your favorite restaurant, then finish the evening at home with a cup of The Healer as a delicious nightcap to maintain a healthy inflammatory resopnse within the intestines. Life is meant to be enjoyed, comfortably, for even the most sensitive stomachs.*
Shop Now
The story
behind the formula
The Healer was born out of a universal need — one that is potent for both myself and my community in order to address the many assaults on gut health that we deal with in today's world. A gut-soothing blend has been in the works for ages, but has taken its sweet time as it was always meant to be a tea. While tinctures and capsules are so important to my apothecary because of their potency and ease of use, intestinal mucosal lining support requires a specialized delivery method that is able to reach all the nooks and crannies of the GI tract that need love and care.
Tea is uniquely supportive to the gut lining, as it allows mucilaginous, coating, and toning phytochemicals to reach a wide surface area, delivering plant compounds directly to areas that need assistance. The nature of warm, soothing tea is part of the remedy itself, as warm liquids promote gut microbiome balance and deep tissue health and hydration.*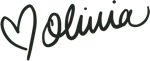 Learn More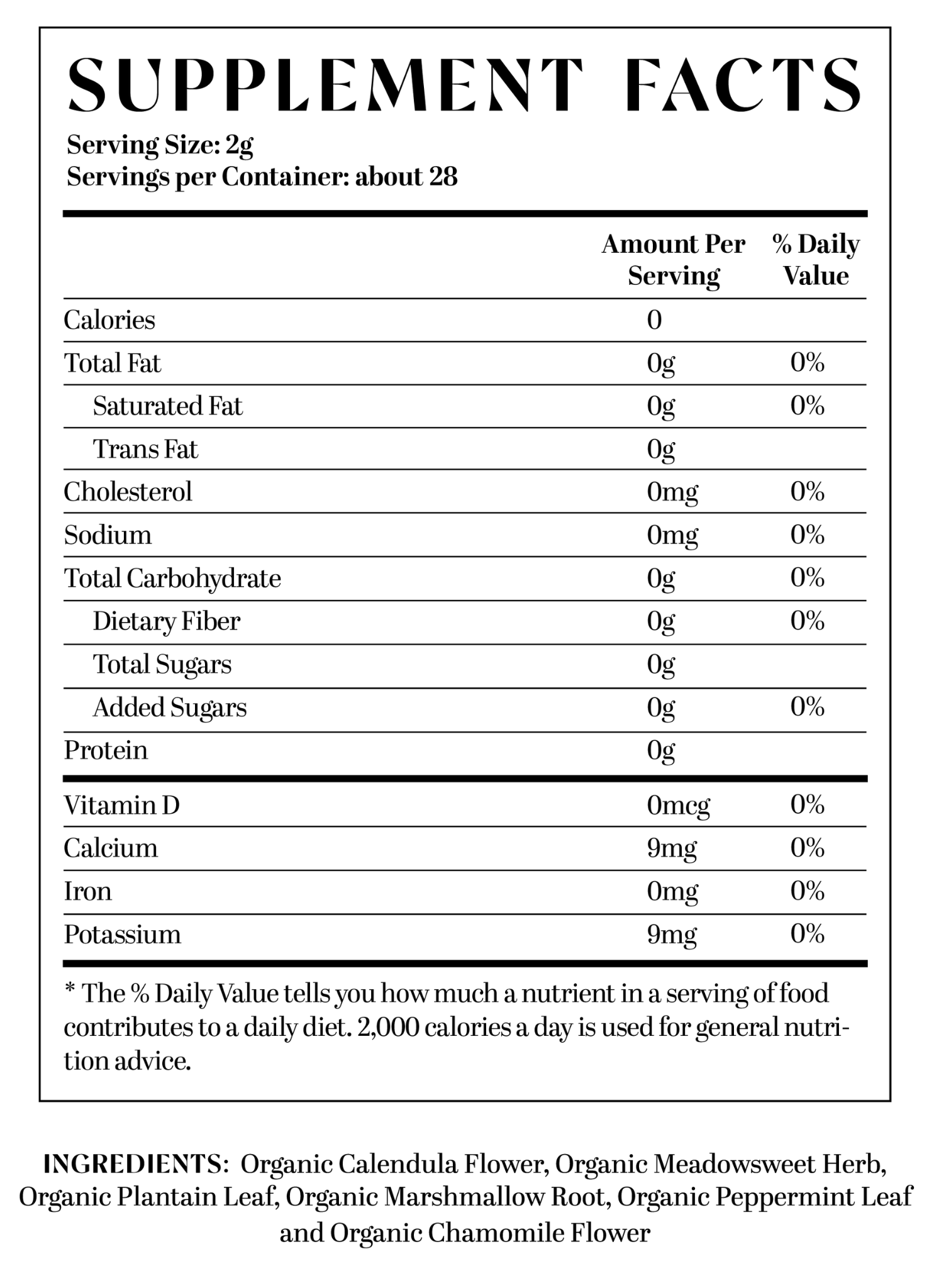 The Healer Tea
Expiration date
12/01/2022
Batch Details
Microbial testing
Passed
Heavy metals testing
Passed
Pesticide testing
Passed
Gluten testing
Passed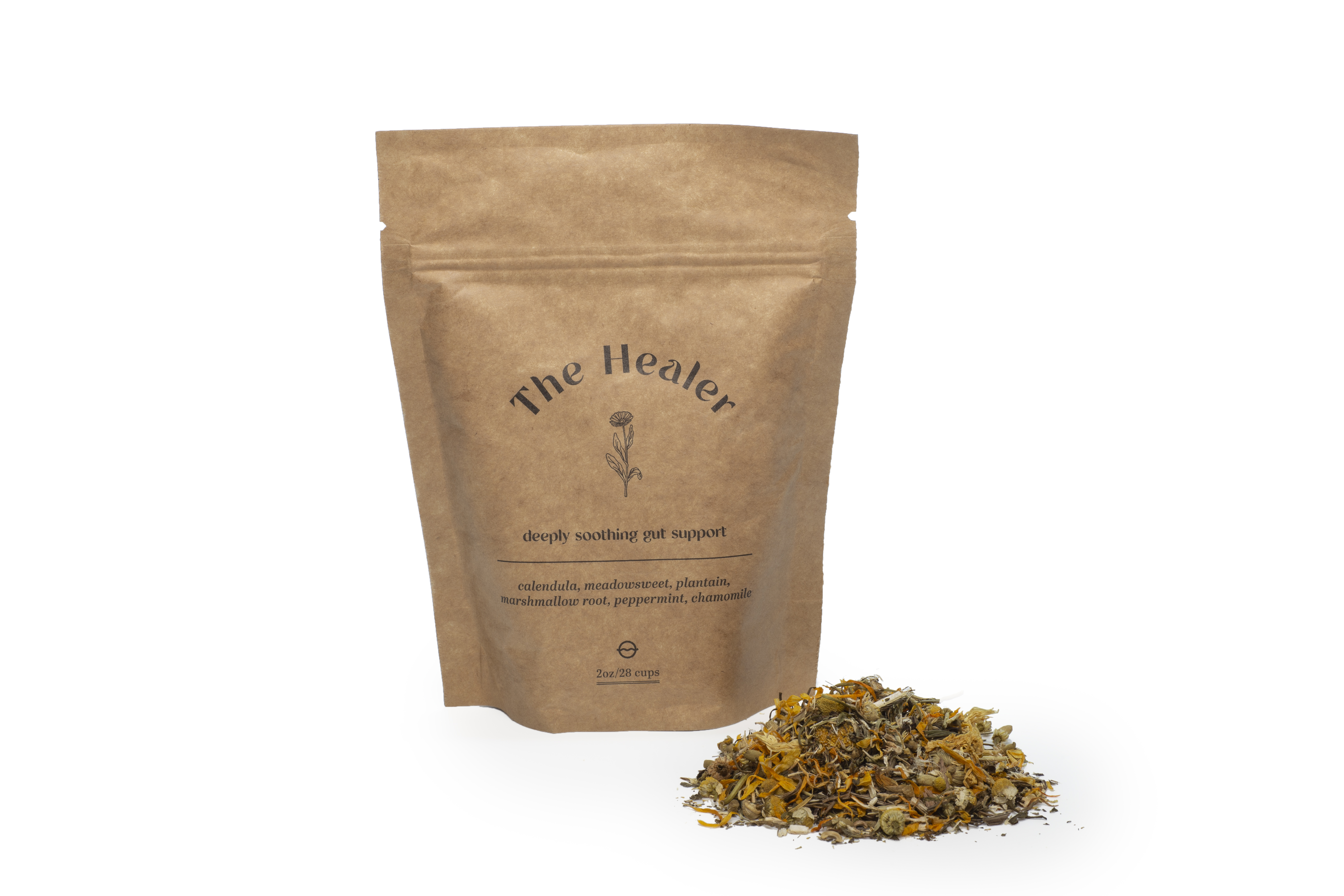 Third Party Testing
Latest Batch Details
Microbial testing
Passed
Heavy metal testing
Passed
Pesticide testing
Passed
Gluten testing
Passed
Searching for a past batch?
Thank you for taking the time out of your day to leave a review! To ensure all reviews meet our community content policies, we ask that you keep your feedback free of specific medical claims or conditions. Please note that your review may be used for marketing purposes.
Calendula
Calendula officinalis
Chamomile
Matricaria recutita
Peppermint
Mentha piperita