Skin Health
Liver Juice
Liver Juice is a blend of herbs that support the elimination of waste products through the body's detoxification pathways. Supporting your liver pathways can help with the appearance of healthy skin (think blemishes) as well as hormone balance and energy levels. Optimizing phase I & II detoxification pathways is essential to our overall well-being, so supporting the body in its natural processes can make a difference in the way that we feel each and every day.*
Third party tested for quality assurance
View Results
Dosage:
1 full dropper bulb 2-3x daily
Herb Strength Ratio:
1:2.3
DETOXIFICATION, SKIN & HORMONE HEALTH*
Phase I & II support
About the
Formula
Back to basics: why the liver?
Today's modern lifestyle exposes us to a variety of environmental pollutants that can affect everything from our skin to our energy levels. The job of the liver is to help us eliminate and neutralize the effects of these substances, all while metabolizing and detoxifying our very own hormones and byproducts of metabolism.
If you are experiencing feelings of occasional sluggishness, occasional gas and bloating, or want to support healthy hormone balance, one of the first things to consider is how well you're supporting your liver. Certain botanicals, especially roots, help to encourage healthy elimination through our phase I & II pathways, thus supporting this hard working organ.*
Demystifying "detox"
When it comes to the "how" of detoxification, we can think of the liver like a factory with two shifts.
The first shift (Phase I) receives raw materials, processes them into more complex and often unfavorable substances, then sends them to the second shift (Phase II). Phase II typically increases the polarity and thus water solubility of these substances for easier clearance from the body, and therefore needs to be functioning optimally for normal detoxification to be completed.
This is happening all day, every day. If the liver's pathways become overwhelmed during their shift, whether due to occasional stress, environmental exposures, hormonal fluctuations, or even gut imbalances, this can affect how we feel and function. Liver Juice contains herbs like Dandelion and Burdock which support phase I, as well as Turmeric and Milk Thistle which help to maintain a healthy balance when it comes to phase II.*
Benefits & Uses
Gently supporting liver detoxification pathways may help with:
Improvement of mild blemishes
Healthy energy levels, mental clarity and metabolism
Digestive support, especially when it comes to occasional gas and bloating after consuming fats
Healthy bile flow and normal toxin metabolism*

Glowing skin from within
Used for thousands of years in Traditional Chinese Medicine, Burdock Root supports healthy detoxification, especially as it relates to the skin.
This nourishing, gently moving root is known in the herbal world as an "alterative," meaning it encourages the smooth flow of elimination channels, supporting not only liver health but kidney and lymphatic health as well. Because the skin often takes on eliminatory functions, Burdock is a valuable tool for happier skin from the inside out.*
How to Use
Take 1 full squeeze of the dropper bulb (approx. 30 drops) 2-3x per day as needed in water, juice or hot water to make a tea. Best taken between meals.*

For general skin and detoxification support, Liver Juice can be used daily between meals. For hormone support or occasional blemishes that only come around hormone fluctuations, Liver Juice can be used 8-10 days before your cycle.
Shop Now
Pairs well with
Mood Juice
For mood support leading up to your cycle, the pairing of Mood Juice and Liver Juice help support a normal, healthy attitude during hormonal fluctuations. This combination not only supports a positive outlook and emotional well-being, but also supports healthy hormones.*

Shop Now
The story
behind the formula
When I sat down to create my "juice" formulas (a 6-piece collection of tinctures designed as a toolbox for daily life that can be rotated and used as needed), I wanted to cover each of the body's most basic needs. While some of those needs are obvious and quite palpable (sleep and digestion support, for example), others lie beneath the surface and affect how we feel from a deeper, physiological level.

The health of our elimination pathways is not something we may directly see and feel each day. Yet the efficiency at which these pathways metabolize and eliminate the many substances we're exposed to plays a role in our overall well-being and energy levels more than we realize. Liver Juice was created to provide botanical support for our key organ of detoxification, so that it can do what it was designed to with greater ease.*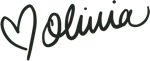 Learn More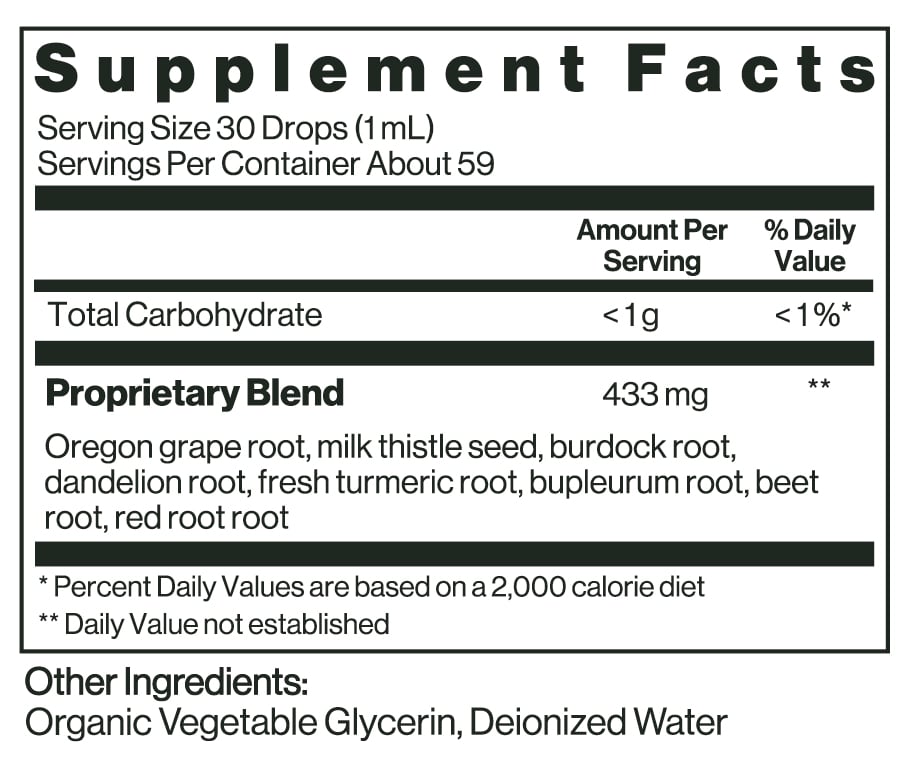 Liver Juice
Expiration date
05/01/2027
Batch Details
Microbial testing
Passed
Heavy metals testing
Passed
Pesticide testing
Passed
Gluten testing
Passed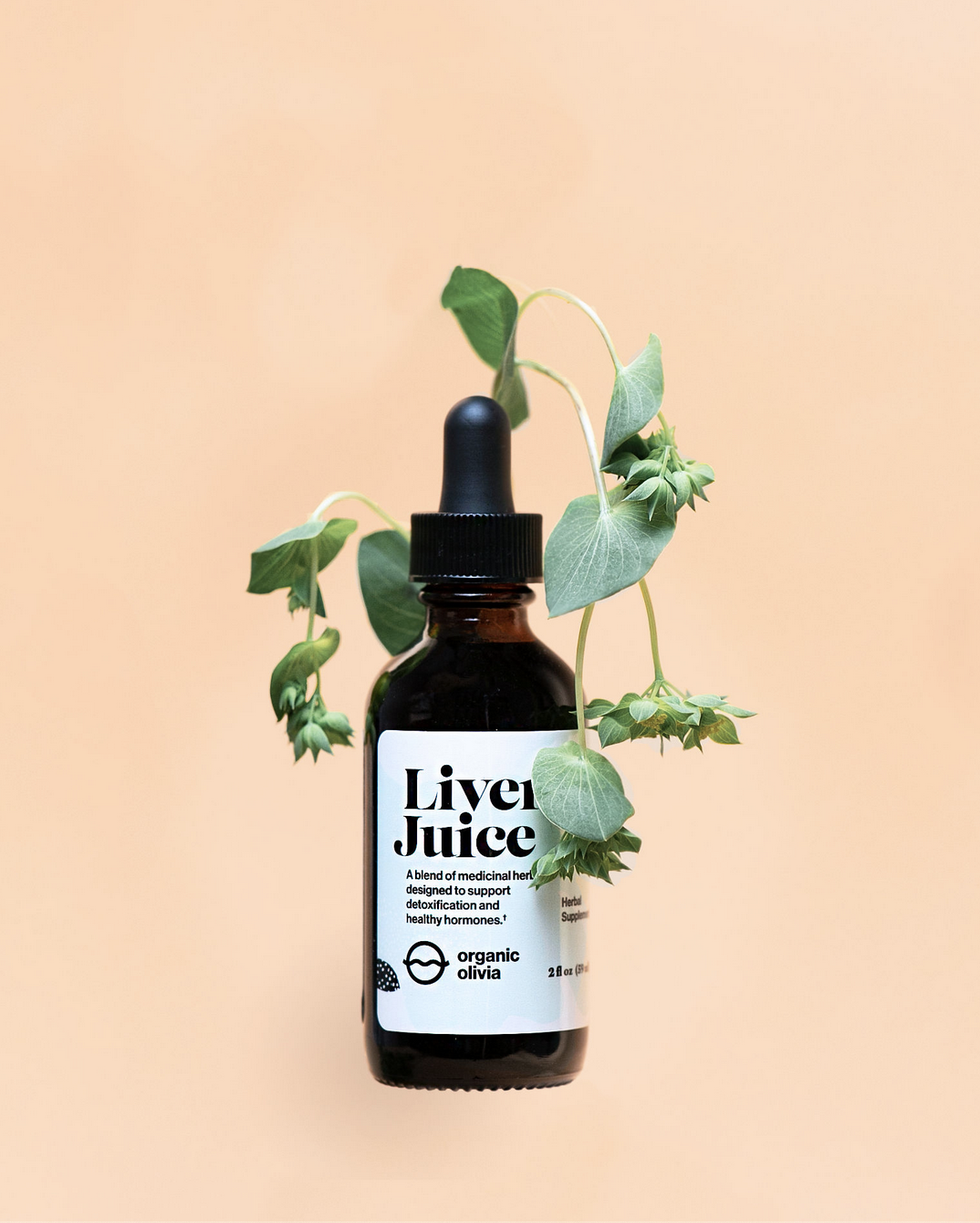 Third Party Testing
Latest Batch Details
Microbial testing
Passed
Heavy metal testing
Passed
Pesticide testing
Passed
Gluten testing
Passed
Searching for a past batch?
Thank you for taking the time out of your day to leave a review! To ensure all reviews meet our community content policies, we ask that you keep your feedback free of specific medical claims or conditions. Please note that your review may be used for marketing purposes.
Oregon Grape Root
Berberis aquifolium
Burdock Root
Articum lappa
Bupleurum
Bupleurum chinense
Milk Thistle
Silybum marianum
Dandelion
Taraxacum officinale