Immunity
Microbiome Guard
Microbiome Guard is a lung support formula designed to keep you breathing easy with a blend of herbs that help to maintain balance within both the gut and lung microbiome. Lung health is more important today than ever before due to immune and environmental challenges, and this formula was designed to help provide targeted support during and beyond immune season to keep your respiratory system functioning optimally.*

Third party tested for quality assurance
View Results
Dosage:
2 full droppers 2-4x daily
Herb Strength Ratio:
1:2.25
LUNG & GUT SUPPORT
Breathe easy*
About the
Formula
The "gut-oral-lung" microbiome
Both the gut and the lungs have their own microbiome, which communicate in a constant, bidirectional manner via the "gut-lung axis". The health of one directly affects the health of the other, with countless studies observing that lung imbalances are directly associated with gut microbiome disturbances.
When looking at lung health in terms of the 'big picture' (rather than a quick fix), we know that restoring balance to the gut microbiome leads to lung health and resilience in the face of both environmental and immune challenges. This formula goes a step further to support both the gut and oral microbiome, as these two are intimately intertwined.*
Formulated with traditional herbs
This blend contains Ginger and Sweet Annie, which are considered "damp-draining" herbs that support mucus balance in the lens of Traditional Chinese Medicine (TCM).
Honeysuckle is considered "heat-clearing" to specifically target damp heat that can impact the lung microbiome. Dong Quai and Osha are included for healthy circulation to the lungs, as their rich aromatics are considered energetically opening and clearing. Red Root encourages lymphatic health to round out the formula with immune support for a complete approach.*


Benefits & Uses
Helps maintain upper respiratory health*
Supports healthy lung function*
Aids immune defenses*
Support to help keep you breathing easy*
Helps balance the gut-oral-lung microbiome*


Early immune support
This formula is designed to be utilized early on, as soon as you're feeling out of sorts and want to keep your lungs feeling well. By supporting the gut-lung axis at onset, Microbiome Guard helps to keep you breathing easy and maintains upper respiratory health.*


How to Use
Take 1-2 full squeezes of the dropper bulb (approx. 30-60 drops) 2-4x daily between meals.
Shop Now
Pairs well with
The Guardian Tea
This tincture was originally created as part of a three-part care package called the "Guardian Bundle" that also includes our Guardian Tea, a warming "immunitea" that can be consumed throughout the day to complement the gut, lung, and immune supportive properties of Microbiome Guard.*
Shop Now
Pairs well with
ZincPlus+
Our three-part "Guardian Bundle" care package also includes ZincPLUS+, a flavonoid-rich capsule formula designed to provide targeted mineral support that complements Microbiome Guard and the Guardian Tea.*


Shop Now
The story
behind the formula
This formula was developed in 2020 as part of a three-piece care package for friends, family, and my community. It contains a blend of tonic, damp-draining, and heat-clearing herbs to provide various angles of early support for the lung microbiome.*

All three components of the Guardian Bundle (Microbiome Guard, the Guardian Tea, and Zinc Plus+) are designed to complement each other in order to maintain upper respiratory health and support immune function during seasonal challenges*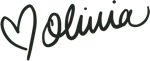 Learn More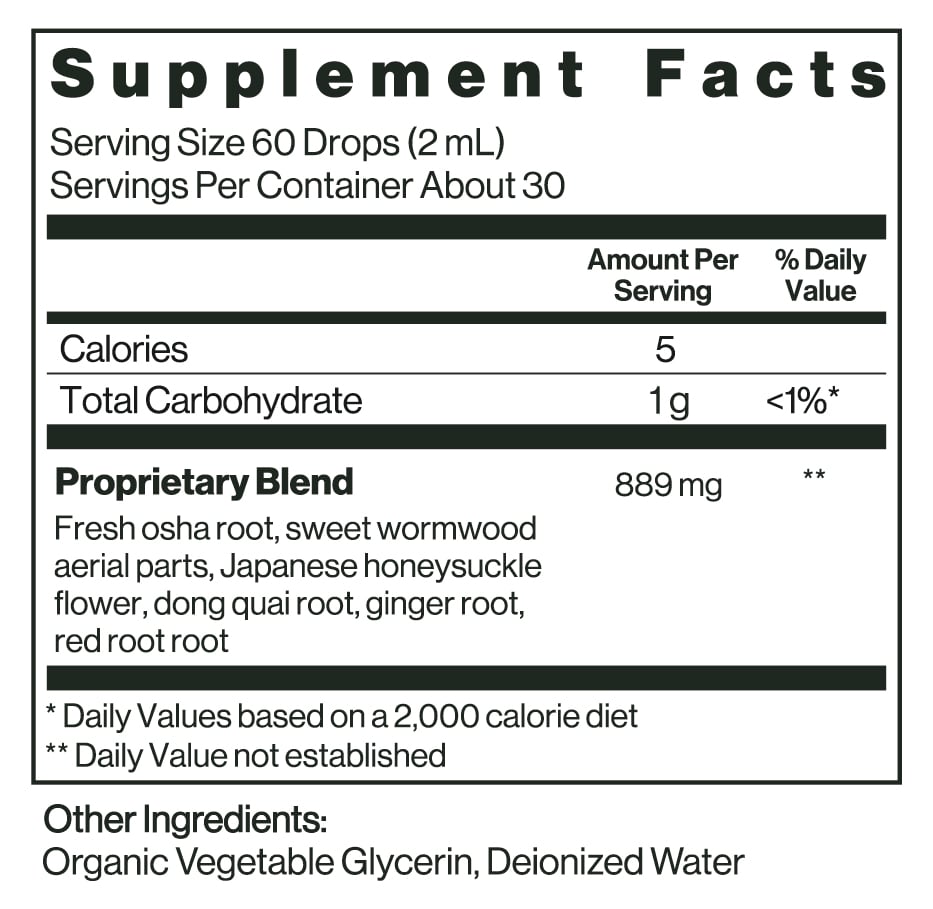 Microbiome Guard
Expiration date
06/01/2027
Batch Details
Microbial testing
Passed
Heavy metals testing
Passed
Pesticide testing
Passed
Gluten testing
Passed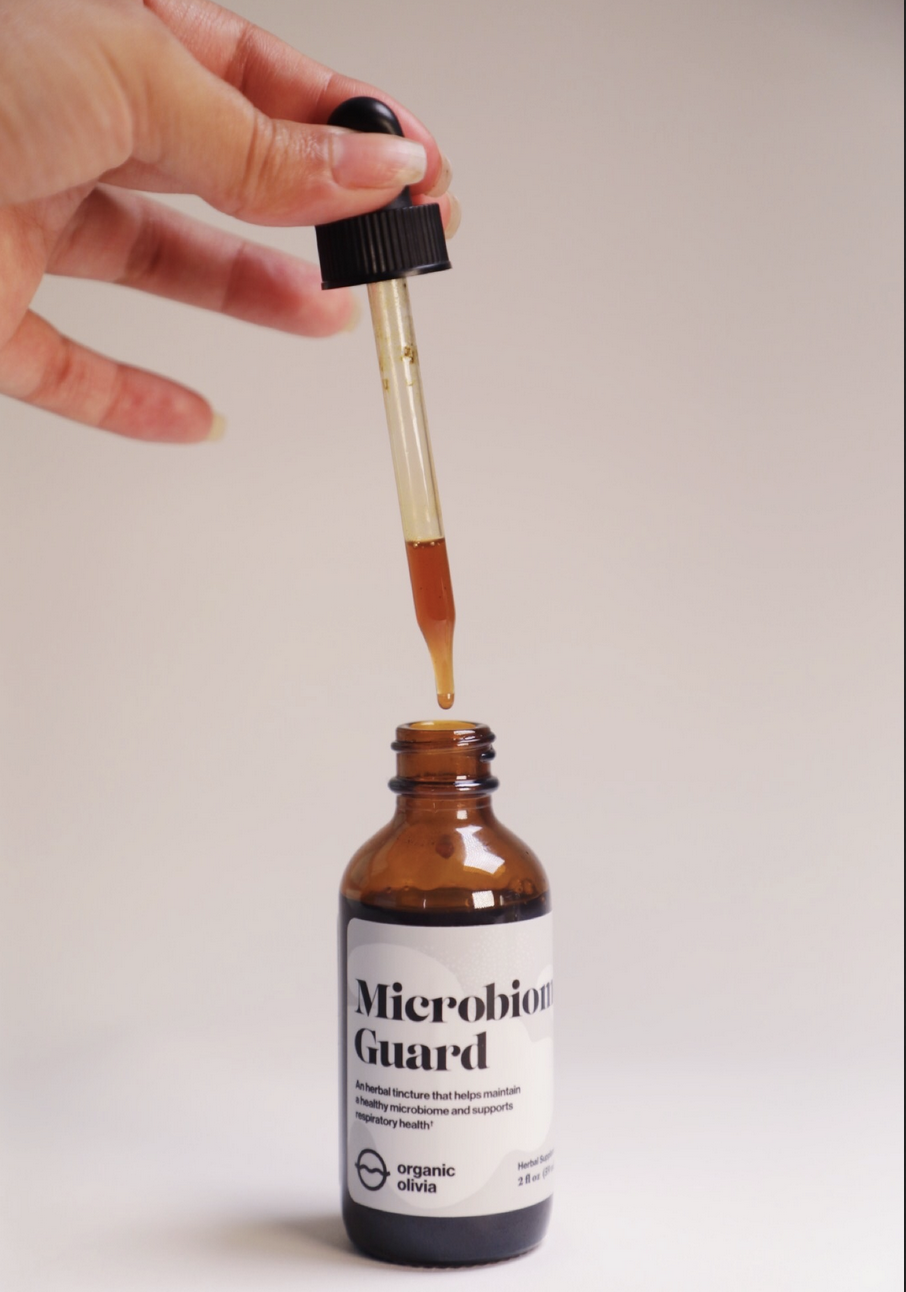 Third Party Testing
Latest Batch Details
Microbial testing
Passed
Heavy metal testing
Passed
Pesticide testing
Passed
Gluten testing
Passed
Searching for a past batch?
Thank you for taking the time out of your day to leave a review! To ensure all reviews meet our community content policies, we ask that you keep your feedback free of specific medical claims or conditions. Please note that your review may be used for marketing purposes.
Dong Quai
Angelica sinensis
Sweet Annie
Artemisia annua
Japanese Honeysuckle
Lonicera japonica
Red Root
Ceanothus americana
Ginger
Zingiber officinalis